Produktbeschreibung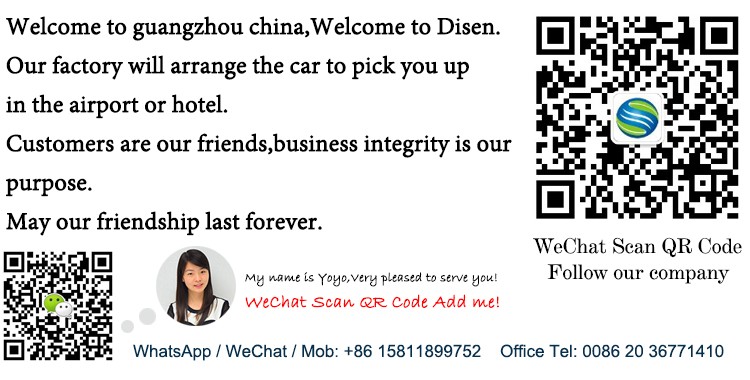 Automatic textile roller printing machine
Specifications
Two roll calender machines Printing Equipment is adopted electric heating diversion around oil layer. rotary heat press machine
Multifunctional Oil Heating Rotary Thermal Transfer Machine
Rotary Heat Transfer Printing Equipment is adopted electric heating diversion around oil layer, fast temperature rising, stable temperature on cylinder surface, four
shafts interlock, blanket disengaging mechanical structure, three frequency conversion adjustable device, easily operation and service, best printing effect, widely
used in digital printing industry both domestic and international
Characteristics:
1) Electronic digital display temperature control temperature.
2) Aluminum hot plate used : safety, durability.
3) Electronic time control.Process is complete instructions.
4) High Temperature Materials floor installed.
5) Double spaces for high efficiency pneumatic.
Features:
Thermal transferring and low temperature transferring
Use duplex oil tank to get more even temperature output
Adjustable air pressure control system
Feeds and collects rolls and clothing in parallel by roll-to-roll
Take-up device -- Optional
Application:
Flag, cloth, curtains, bedding, cushion etc
Function and characteristics:
Surrounding fever(fast)
Frequency Cintron (stable)
Blankets by the United States, Dupont U.S. Besiktas raw materials
Transmission glue stick used in Japan "the letter" of raw materials
Oil temperature thermal conductivity effect, and no color for stamping
Automatic textile roller printing machine
Parameter of GT-3200:
1. Diameter of roller: Φ420mm
2. Max transfer width: 3200mm
3. Transfer Speed:0-2m/min (Manual control)
4. Heating time: 60min
5. Heating temperature: 0~399 centigrade (with auto constant temperature control system)
6. Power supply:AC 380V/50~60Hz,(three phase four wire system)
7. Total Power:48kw Max Current:60A or so
8. Flatbed: Optional
9.Weight: 3.5T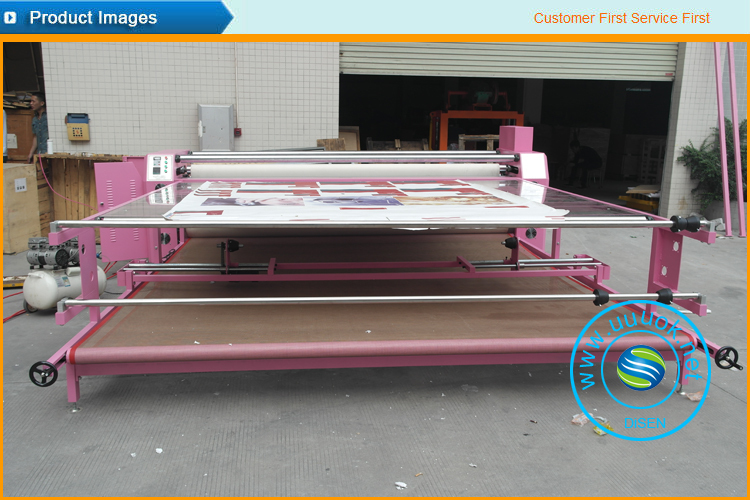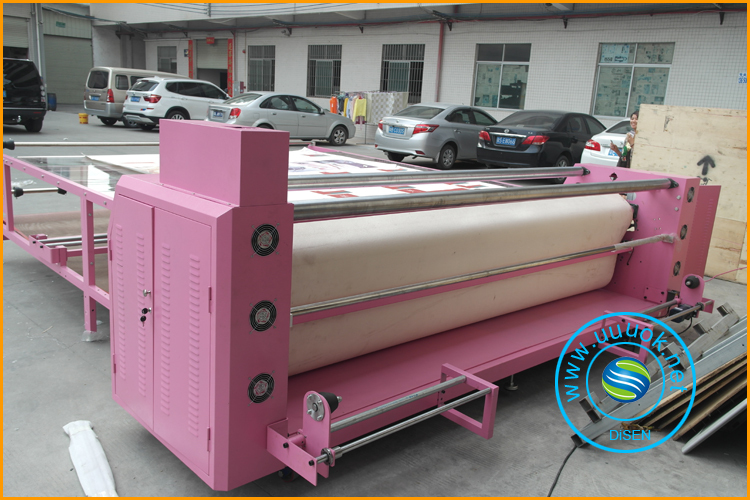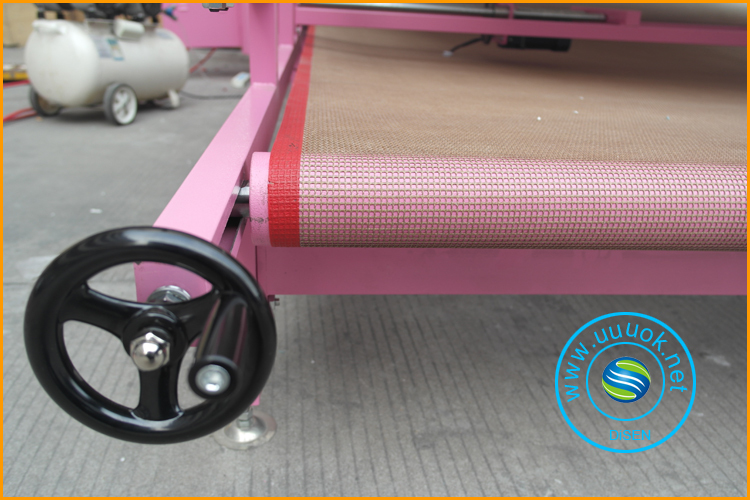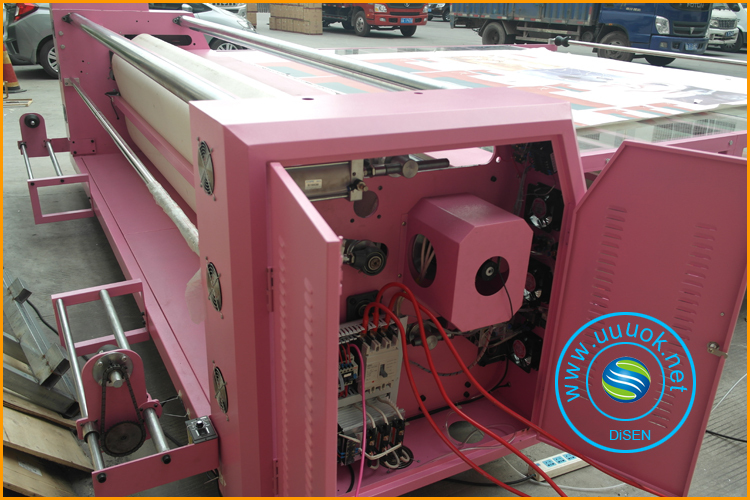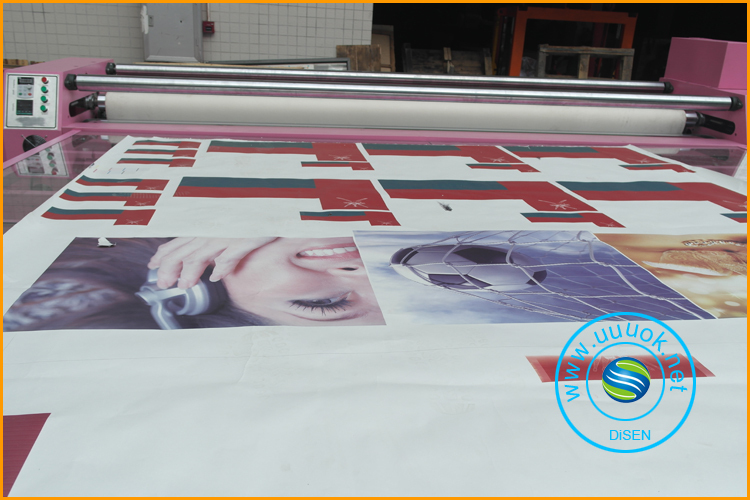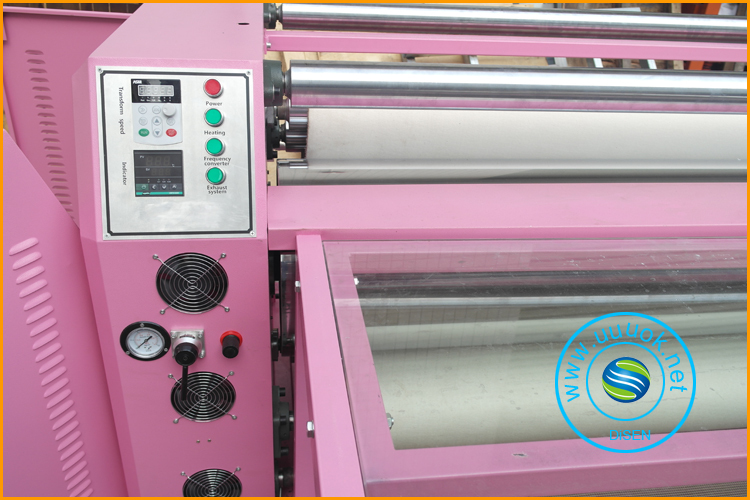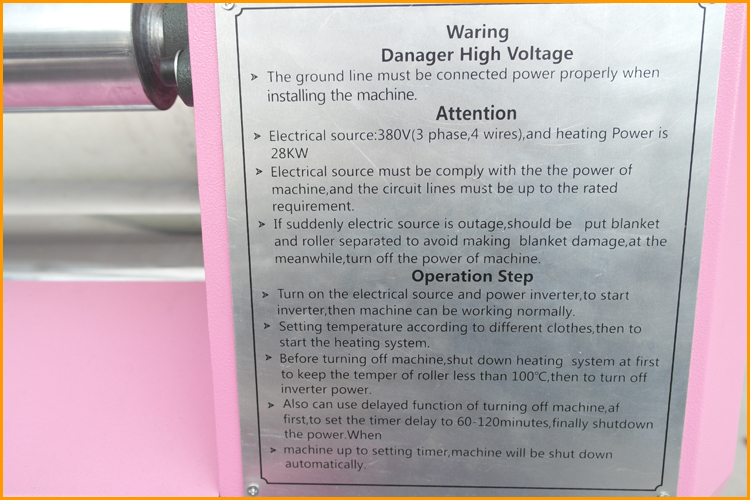 Automatic textile roller printing machine
Scope of application:
This product is suitable for large banners, flags, non-woven fabrics, clothing fabric, towel, bed sheet, mouse pads and other products of the sublimation transfer printing, especially in continuous transfer into the piece of cloth. Can continuous printing, fast speed, large quantities of printing to meet customer demand.Drum diameter of 377 MM, 1.7 meters wide
Feature:
1.The most advanced technology and imported units are adopted by machine controlling system with automatic positioning, accuracy together with security, electronic constant temperature controlling with high accuracy, long service life and other features. 2.Heating wheel is controlled by sealed and heat-oil heating to efficiently ensure the even and stable temperature. 3.Printing speed is equipped with continuous speed adjustment system, feeding equipment is convenient for operation with swiftness and high reliability. 4.Equipped with continuous speed adjustment system, you can adjust printing speed as you need. 5.The roller was heating up with oil and temperature heating system. 6.We can provide total service for heat sublimation print technology, 7.Get CE certificate,1year warranty
Automatic roller heat press machine price
Instructions:
1.This machine adopt the most advanced technology,imported components,automatic spacing ,accurate and reliable security,it can use long time. 2.The drum adopt the heating oil system,it can distribution the temperature more uniformity and stability. 3.It equipped with the unlimited adjust system,the feed equipment can be used convenient,safe,accurate security. 4.This machine has a rolling function ,it is suite for the roll fabric printing.

Automatic textile roller printing machine
Product features:
1 felt the use of imported raw materials, transfer good effect, long service life.
2 using the 100% seamless drum, drum, the outer drum outside Seiko lathe, polished, and then coating Teflon, uniform heating, to ensure that each point temperature uniformity. Optional single roller and double drum, double drum heating is more uniform, transfer effect without color, low power 30%-40%.45 minutes will be heated to 200 degrees.
The 3 main wall with 10 per cent of thick stainless steel plate production. The wire cutting, precision is high, the error is smaller.
4 offset axis each after lathe, grinding, and then platinum plating. The error control in less than 2 C. The blankets under normal working line.
5 electrical control. High quality digital display, temperature, time control, precision is higher.
Pressing / 6 pneumatic and hydraulic pressurizing function. The transfer effect is better, the color is deeper,. More bright coloured.
Automatic separation of 7 blankets. When power failure or shutdown, automatic felt and the drum separation, better protect the blankets, prolong the service life.
The 8 conveyor belt transmission function. The product transfer, through the conveyor belt transmission to the working frame behind, can save more labor. Optional on the conveying function, higher efficiency.
9 machine adopts 3 put 2 receiver function. Can be customized according to customer requirements. The optional charge / discharge inflatable shaft, positioning is better.
10 multifunctional oil temperature roller transfer printing machine can do: cut pieces, cloth (horse mounted) and clothing.
Multifunctional oil roller transfer printing machine product specifications:
Drum diameter: 377MM / 420MM / 600MM / 800MM.
The conventional width: 60CM / 90CM / 1.2M / 1.7M / 2.0M / 2.2M / 2.5M/3.2M.
Note: the drum diameter 2.5 meters, 4 meters wide within can be customized according to customer requirements.
Drum diameter 377MM transfer digital paper speed of 1.5 m / min, the transfer printing plate paper 2 meters per minute.
Drum diameter 420MM transfer digital paper speed of 2.5 m / min, the transfer printing plate paper 3 meters per minute.
Drum diameter 600MM transfer digital paper speed of 5 m / min, the transfer printing plate paper 6 meters per minute.
Drum diameter 800MM transfer digital paper speed of 12 m / min, the transfer printing plate paper 15 meters per minute.
Introduction to Heat Transfer Machine
Heat press machine can be a variety of heat transfer by thermal hot on cotton, hemp, chemical fiber fabrics, but also for screen printing, glue, foam, and other heat treatment process, but also the color color, portrait photos, landscape design and other baked in porcelain, metal plate, especially suitable for the production of medals, commemorative certificate card, Shandeng cultural, economical and practical, exquisite designs. It is an alternative to traditional embroidery and screen printing, and costs, and the effect is much lower than and superior to the general multi-colored embroidery and screen printing.
Automatic roller heat press machine price The principle of heat transfer machine
Heat transfer machine with three concepts, namely, pressure, temperature and time. Working Mechanism: heating by the heating plate, with a certain pressure, temperature and specific time, the upper layer and the thermo-transfer sheet bonded to the substrate or to the substrate material at the permeate.
(1) microcomputer intelligent temperature control \ time integrated controller, high accuracy (temperature accuracy of ± 0.5 ° C);
(2) heating wire and the heating plate the whole cast, safe, durable, heat distribution;
(3) heating plate coated with Teflon non-stick coating;
(4) Electronic time control, process completion signal alarm indication;
(5) pressure can easily adjust;
(6) floor installation of high-temperature silicone foam board, temperature 350 ° C without deformation.
Automatic textile roller printing machine

Heat transfer machine to use
1, the pull handle direct pressure , the heating plate is fully open. Plug in the power , turn on the power switch, indicator with bright ; Note: Due to the high power of the machine , the machine must have the proper protection of solid ground ! ! !
2, the temperature adjustment: press " +" or " - " button to set the temperature , press the " + " button to increase the temperature setting , press the " - " button to lower the temperature setting .
3 , adjust the timer knob on the left , transferred to the appropriate time to 10 seconds ( the length of time depending on material) ;
4 , when the temperature reaches the set value , the machine will automatically enter a constant temperature ;
5 , the transfer material such as clothing and flat on the printing stage, and then stacked to transfer pictures , handle the pressure forced under pressure ; Note : The pressure is not too large , otherwise it will cause deform handle the pressure ! Advance should adjust the pressure .
6, the time, the buzzer sounds , then the pressure will be put on the handle , remove the transferred material such as clothes , torn backing paper .
7 , the metal plate baking temperature is generally 170-200 °C, time of 20-40 seconds ; porcelain baking temperature is generally 200-220 °C, time of 120-150 seconds ; baking fabric temperature is generally 120-140 °C, time of 5-10 seconds. Heat transfer machine is a core component of the heating plate , so the choice should focus attention on heat transfer machine . Upper and lower plates should be aluminum material , and the heat pipe is cast aluminum inside. As aluminum plate is slotted , and then attached to the top of the heat pipe will cause unnecessary energy consumption , use warming will slow , constant temperature difference and other shortcomings. Under the case of iron plates or other material, long-term work under high temperature and pressure environment, it is easy to deform aging. According to a different area of the heating plate , the weight of the upper and lower plates Jieyou standard , if too light , too thin , heating panels will be easily deformed , affect use. Generally speaking , the greater the weight , the more reliable performance . Heat transfer machine on board after pressure should be , and the lower plate is absolutely parallel . If the test is close to the upper and lower plates bite can be placed in the four corners were a sheet of cardboard or other resilient material object, and then pressing the handle until the death of the upper and lower plates bite card , pulling the cardboard outward , to know whether the formation of the upper and lower plates , the machine is qualified.
Heat Transfer distinction
1, What is heat transfer ? Freedom heat transfer was first circulated in the United States , Western Europe area open to nearly two years in the country gradually heat up. Early heat transfer heat transfer is not so much the word as it is hot , mainly because some popular slogans, characters , and later gradually developed into a lively variety of patterns. With economic development , social progress , the younger generation increasingly flaunt personality, coupled with the development of related software development of computer technology, the heat transfer industry in terms of freedom , is undoubtedly powerful. Heat transfer costumes have been popular in Europe and America forming, became popular casual wear. Due to its simple printing process , easy to operate , economical and easy to get the necessary materials , and because widely printed on a variety of substrates, such as knitted T-shirts , denim, plush , toys, shoes, backpacks , all kinds of nylon caps. Available transferred to the fabric heat transfer machine , can be used for industrial , civil and easy . Heat transfer can be divided into foam heat transfer, offset heat transfer, heat transfer penetration , colorful beads heat transfer, laser heat transfer, flocking heat transfer, reflective heat transfer , heat transfer and water-based gold and silver hot flower variety . Foam Tang : distinct levels , elongation good , clear transfer security , patterns , bright colors . Penetration of heat transfer: ink thin , breathable , clear, delicate, the overall effect is natural and realistic . Offset Transfer : fine pattern , the effect is beautiful, there are Offset photo effects , to maintain the original charm and artistic charm. Water-based heat transfer: for a variety of fabrics , good water resistance , flexibility and superior strength . Gold and silver heat transfer: golden shiny , suitable for knitted T-shirts , backpacks . Heat transfer from the United States , has a long history and tradition , because of its simple printing process , easy to operate , Colorful beads heat transfer: pattern composed of colored beads , especially for women and children ; Laser heat transfer: colorful laser patterns. Flocking heat transfer: pattern of flocking effect ;
2, the principles and applications of heat transfer Heat transfer technology is widely use in the printing industry , clothing iron and metal flower photo also use heat transfer, heat transfer technology to learn and difficult to master , but do not understand the misunderstanding . Heat transfer theory is very simple : the video output on the transfer paper , and then to the appropriate temperature and pressure transfer in different materials, but it is not simple to see a lot of the high failure rate of heat transfer shop , has been unable to find ! the reason , in my possession with a bad seal , but the operation might be able to open a long time "T -shirts printed fault Exhibition ." Go to the local heat transfer printing is very simple, but very uniform and not fall off a large area depends on technology , the heat transfer is very important transfer interface , which is the transfer paper processing technology , the temperature is too low can not be attached , the temperature is too high will spend pattern dizzy or charred . And some heat transfer store to buy a thousand dollars a heat press machine , has been uneven or unstable quality printing , in fact, is not the same as thermal heating system , the temperature is uniform ? Pressure is just ? The relationship between the heat transfer quality, good pressure and heat transfer functions to solve a problem of a different material thickness . The above shows what you pay for , "we . Must first sharpen his tools" , the most important thing of course is to use , printed calendars , T -shirts, hanging scroll , punching bags , medals, golden eagle silver eagles photo , tiles, glass , wood logs edition ...... that nothing is printed , nothing is earned , where India , where it is used to earn that reason !
3 , what is the transfer paper ? Several sub ? Transfers can be stamping patterns inkjet printer output , and then printed onto the clothes. Divided into light and dark transfer paper transfer paper . White light transfer paper suitable for printing , such as light-colored clothing ; dark transfer paper suitable for printing black and other dark clothes .
2014 best heat transfer printing machine
4 , what is the heat transfer paper Pattern transfer paper is already printed on paper , to be printed when direct transfer can be, there are a variety of printed patterns to choose from.
5, with transfer paper printed what clothes to use ink ? Or use thermal transfer ink ? When ordinary ink can be printed using transfer paper , waterproof ink better ; If using a thermal transfer ink printing , inkjet printing paper, as long as the fight , but use special clothes.
6, with thermal transfer ink is transferred to the image on the T -shirt color is very light what is the reason ? Transferred to the image on the T -shirt color is very light, mainly due to the following aspects :
(1) , transfer ink quality problem, you can try to change an ink ;
(2) , the problem of inkjet printing paper , inkjet paper and some can not completely transfer the image up , you can choose to have a special coating for inkjet printing paper ; The relationship between temperature and time of transfer
(3) , which is the problem of operating skills . If the time is too short , the temperature is not enough, the ink transfer is not sufficient, the main reason is caused by light colors ;
(4) , T -shirt Fabric choice if the transfer on cotton fabric , then the color is a little lighter , which is the degree of adsorption of the fabric of the ink of the decision, if the chemical fiber fabric color is very bright for the transfer .
2014 best heat transfer printing machine
7 , the transfer of light fastness and wash clothes , how? Direct sunlight will not fade . If the water is not too acidic , washing generally will not fade , but not soak too long.
8, T-shirt and a cotton fabric maintenance methods after transfer
1), T-shirt have just transferred some hard feelings , you will become soft washed some .
2), new T-shirt to be processed after 2 hours before washing . Turn to the back to wash the clothes .
3), Do not rub their hands T-shirt patterned surface ( patterned surface material does not adhere dirt ) .
4), Do not wash with a detergent containing bleach .
5), below 40 ° C with warm or cold water wash.
6),try not to wash with a washing machine .
7),After washing , do not use dryer drying .
8),to dry naturally, do not wring the clothes , not the T-shirts on the sun exposure .
Informationen zum Unternehmen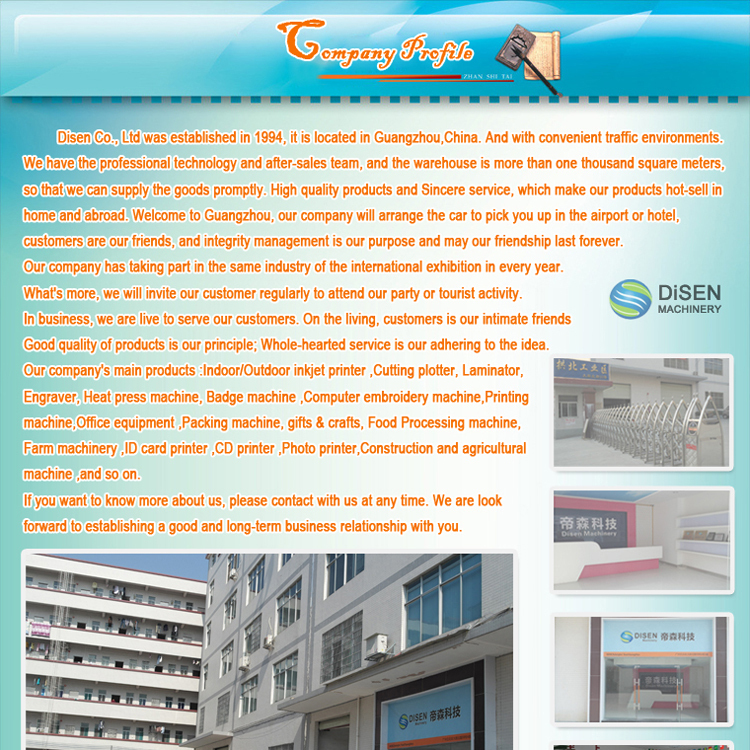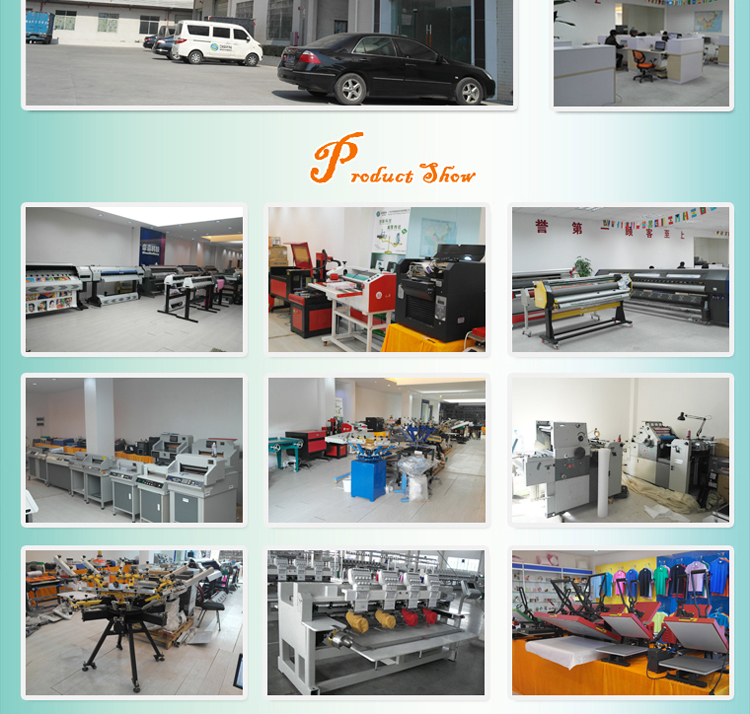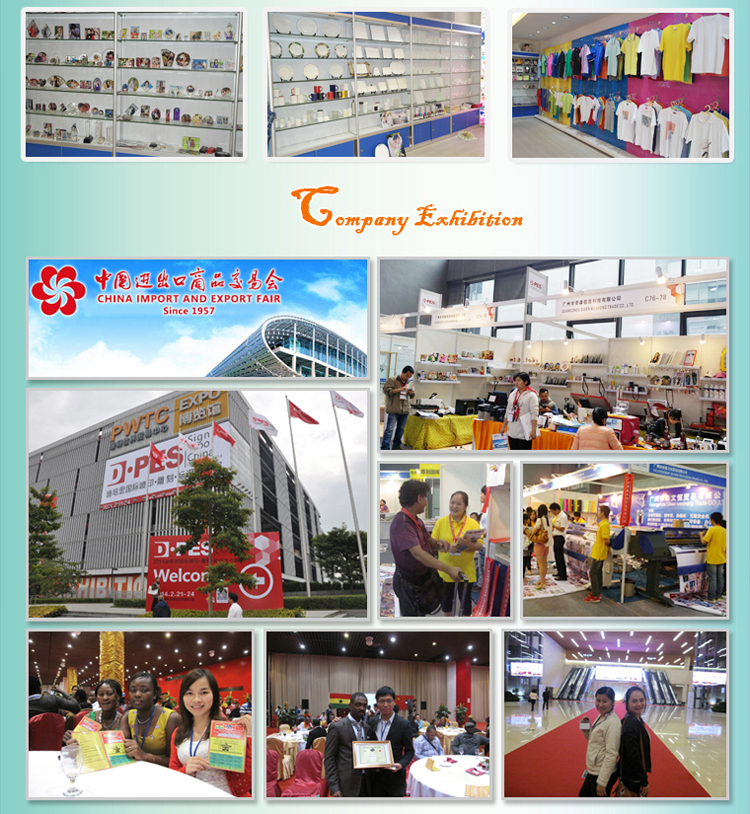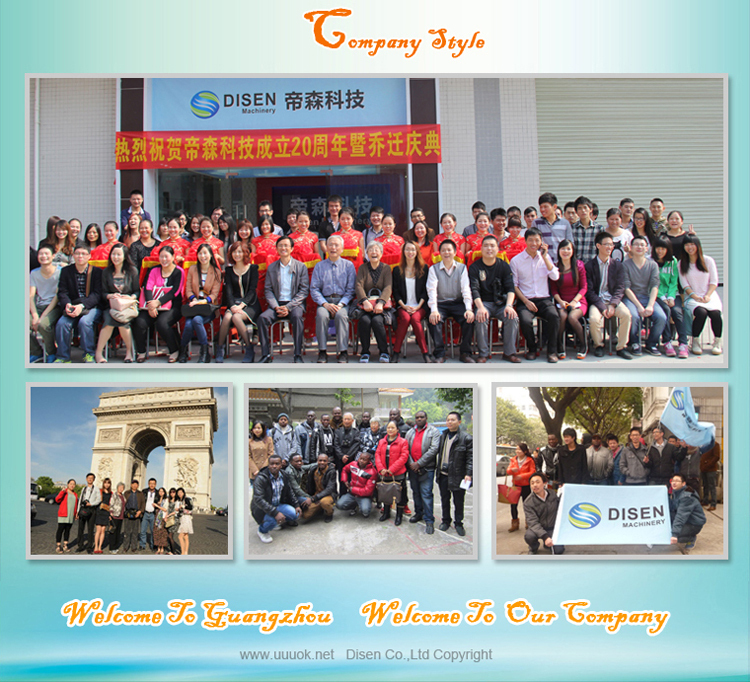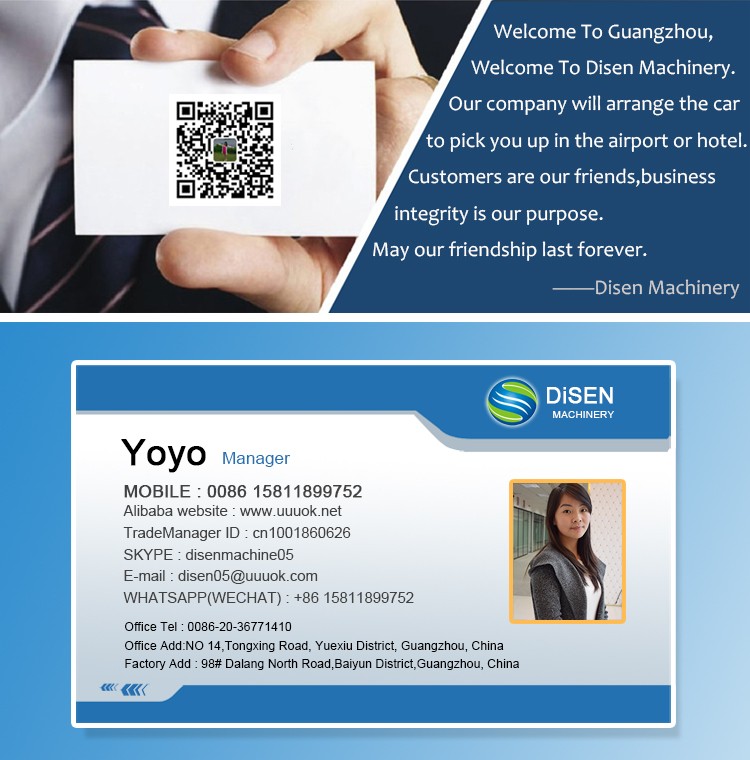 Produktgruppe : Wärmeübertragung Maschine > Hitze Druck Maschine